Aaron Fink is a Sarasota based photographer who travels often and has come on two GrapeHops tours. He and his wife Vicki are fun people and great to travel with but aside from this, Aaron's photos are truly stunning. He has agreed to let me  post some of his Sicily photos here, and you can check out the rest here and here.
One night, after the rest of the group went home to bed, Aaron had our driver take him to a viewpoint looking over the hill town of Castelbuono.
Walking down from the Theatre at Segesta, he got this beautiful shot of the Temple of Segesta.
Because it was November, we had the theatre to ourselves. There are certainly benefits to traveling in the off-season!
In the town of Trapani, the group happened upon a competition and exhibition of marzipan. This is not seafood, it is candy!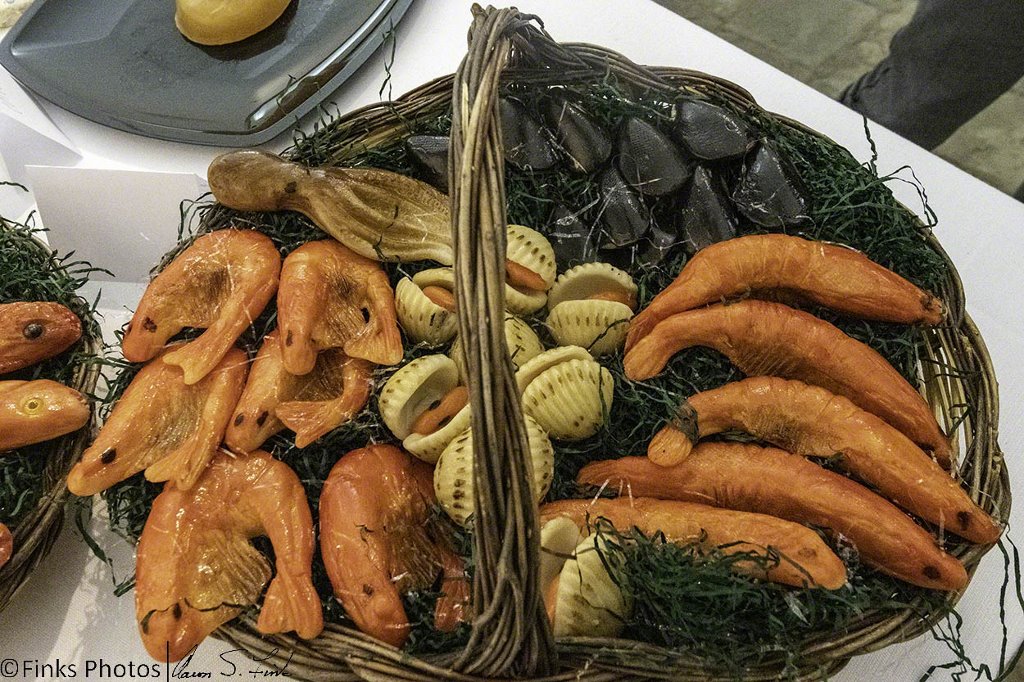 But this is seafood – the vibrant fish market in Catania.
We were treated, last November, to a view of Mount Etna covered in snow.
The weather on this tour was for the most part brisk and clear, though we did encounter some rain and one big storm. The mixed weather made for some very good photographs – Aaron has really captured the light and feeling of the air around us.
I am especially fond of this shot at the Salt Flats of Marsala. That area is SO picturesque but I can never seem to do it justice. Aaron has.
Another benefit of rain is.. rainbows.
A sheepherder walks through the hilly landscape of western Sicily with his flock. Thank you Aaron for capturing these moods and memories of Sicily!
I highly recommend looking at Aaron's other photography – if I could do a tour underwater, I would, because his underwater photography is truly amazing.