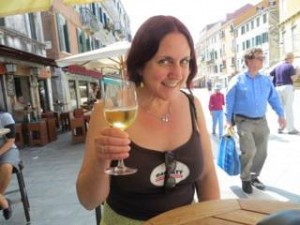 Greetings!
I am Shannon Essa, founder and owner of GrapeHops Tours. Thank you for visiting the GrapeHops website!
I have been organizing wine and food tours to various regions in Europe for over eight years.  I love Europe and spend as much time as possible there. I love that there are so many different grapes, so many different styles of wine, and so many beautiful wine regions. My goal: to seek out special experiences – and people – for any tour I organize, as well as throw in some important cultural sights and activities. Though I just started organizing and operating tours in 2011, I already have quite a few returning customers. The problem – or maybe it is not a problem! – is that I need to keep developing new tours for them to come on!
It is very important to me to offer people a wonderful vacation, with lots of experiences not only in food and wine but in getting to know the locals and off the beaten track places. Along with my on-the-ground network of guides – and other friends and associates in accommodations, restaurants and wineries – the #1 goal is to make sure you are enjoying yourself.
You can find information about GrapeHops Tours in Spain, Italy, Portugal, Croatia and Slovenia on this website. In 2020, I will be adding a tour in Bulgaria. Maybe you don't think of Bulgaria as a fine wine destination, but it is one, as well as being a fascinating country. I will also be adding a tour in Hungary in the future so please reach out if you are interested in any of these locations.
I hope you will join me someday on one of these adventures. Do get in touch with any questions.
Cheers,
Shannon Essa