Hvar Island is an important stop on any wine tour of Croatia. The Greeks first planted grapes there in the 4th century BC and grape growing and wine making were very important to the island's economy for well over a millennia. Phylloxera came to the island in the early 20th century, forcing many of the island's winemakers to move to other countries, and while wine was made during the communist era, it was generally not fine wine.  Now fine wine making is coming back to the island, slowly but surely.
Hvar Island is unbelievably gorgeous and a well-known tourist destination, but it is our goal not only to enjoy the views but to get a sense of island life and what the people living on the island do to survive. Here are some highlights of our days there.
First, we check in to our accommodations – the apartments Komazin, where we all have plenty of space and a warm welcome from the family Komazin.  From our terraces we can see the beautiful Adriatic sea.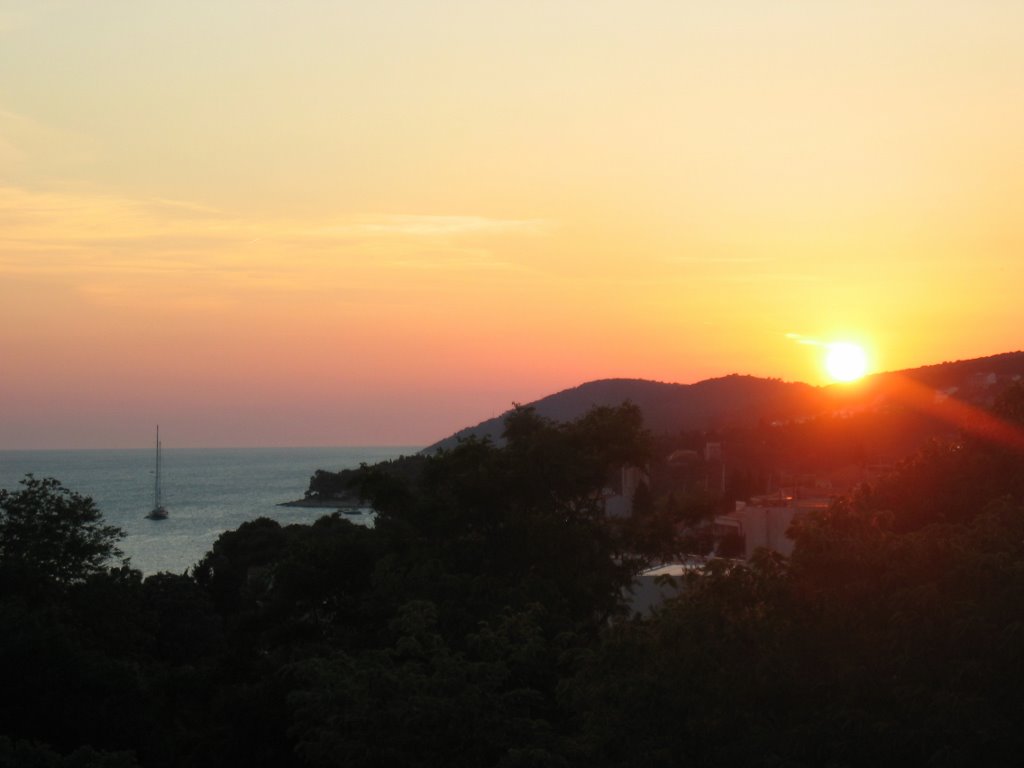 We head into Hvar Town for a few photos and our first dinner on the island.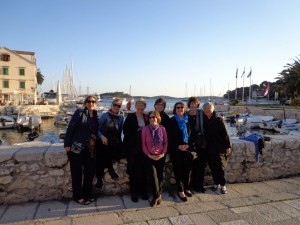 The next day, we explore Hvar Town and then set off in a bus to see other parts of the island, including the Unesco site the Stari Grad Plain and the town of Stari Grad.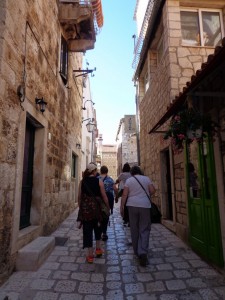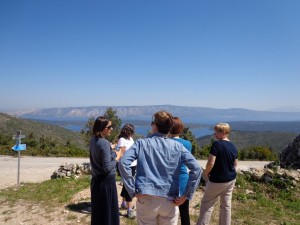 We then head to Pinjata Winery, where owner/chef Marina cooks a beautiful lunch for us.  Her dessert wine and grappa afterwards is the icing on the happy cake.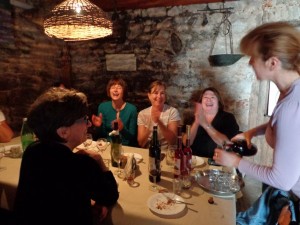 After lunch we head up to the Venetian fortress above Hvar Town to see the views and perhaps walk down into town for shopping or cafe-sitting before dinner.
The following day is an immersion into the wine culture of the island. Ivana Carić, president of the Hvar Wine Association, will lead us on a walk of the small town of Svirče.  Ivana's husband Ivo is grapegrower and winemaker at their winery Vina Carić, and Ivana is a walking encyclopedia of what grows (and does not grow) on Hvar Island.  We get to see a small vineyard and some of the lush gardens in the town.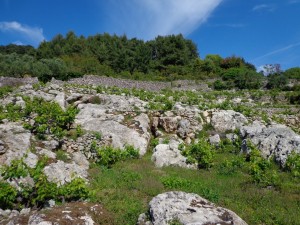 On the fall trip, we arrived at this vineyard during the harvest.  The harvesters kindly let us in to take a look.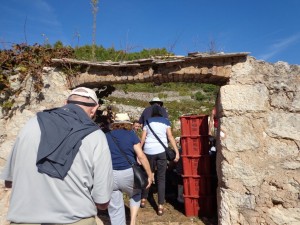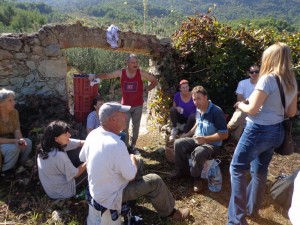 Now it is time for some tasting at PZ Svirče, where Marija pours some of their excellent wines and can also answer questions about grape growing and winemaking on the island.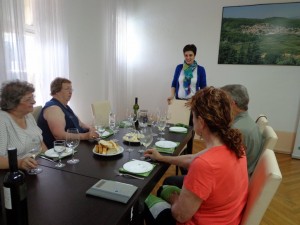 After our tasting it is time we walk down the street to an excellent konoba, where we eat, taste the wines of Ivo Carić, and see a specially prepared slide show of photographs taken by Ivana Carić of life on the island. Ivana is a very good photographer, and she is also an ambassador for Hvar Island and its wines.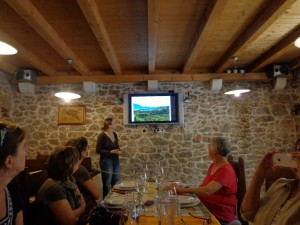 Tonight is a night off.  A good night to check out the sunset.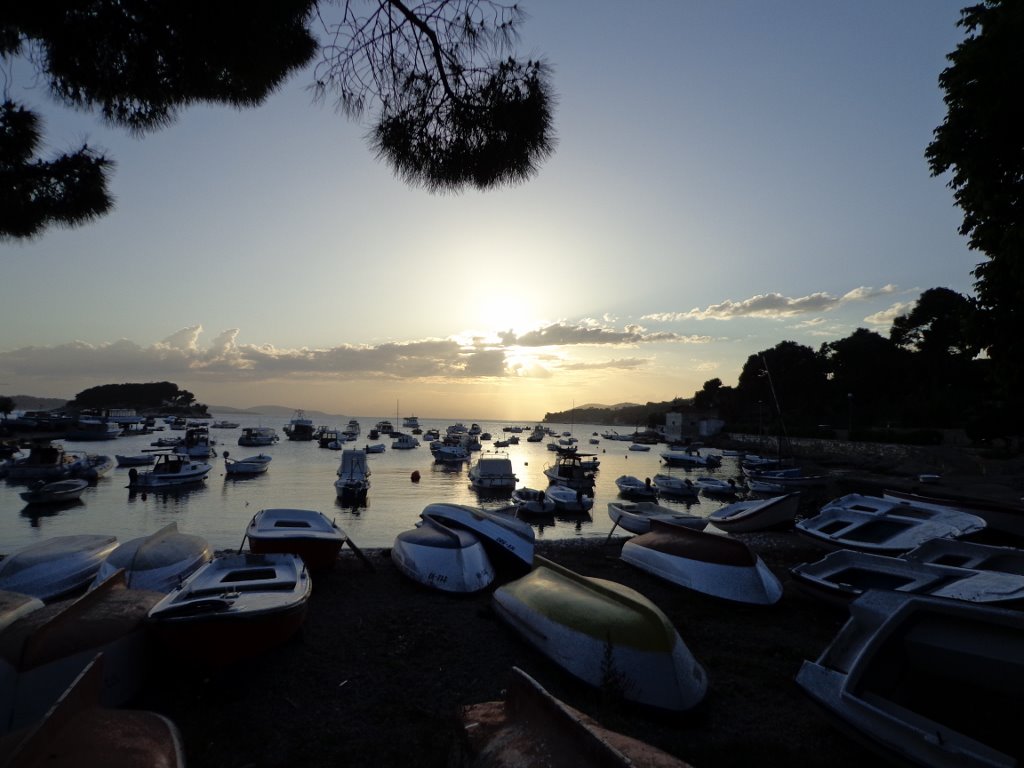 And the following day a free day, after which we all meet up for an incredible seafood dinner.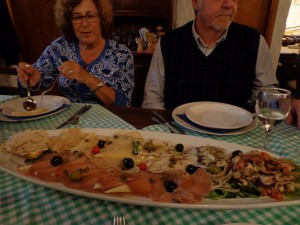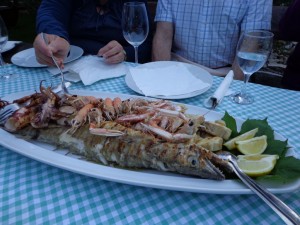 Hvar Island is one of those places that gets under your skin, and after you've been there on a GrapeHops tour you will definitely want to go back.