GrapeHops Tours are for travelers who love a little culture and activity mixed in with their wine and food experiences. During our tours, we meet winemakers and food artisans along with learning about the regions we visit.
You can count on a GrapeHops tour to be groups of 12 people or less, people who love wine and food as much as you do.
Are you a single traveler? There is NO single supplement on a GrapeHops tour. You will have your own bedroom with no additional expense added to our published prices.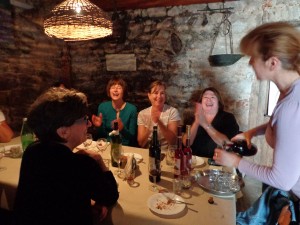 What you can expect on a GrapeHops tour:
Visits to both well-known and off-the-beaten-track places
Unique visits to wineries, farms and food artisans
Excellent libations and food every day of the tour
Your host and guides will do everything within their power to make sure you have the vacation of all vacations
Do you have questions or would you like to be added to our email list for updates on future tours? Do not hesitate to email Shannon@grapehops.com or post on our facebook page.