In May our small group of wine and food lovers had fabulous weather, great meals, and fantastic wines for nine days throughout the region of Catalonia in northeast Spain. Here are some highlights.
We began our journey with a walking tour in the city of Tarragona with a few stops for wine and food.
After a great nights sleep we visited the Priorat area with a tour and tasting at Clos Mogador, then tasting and lunch at Clos Figueres.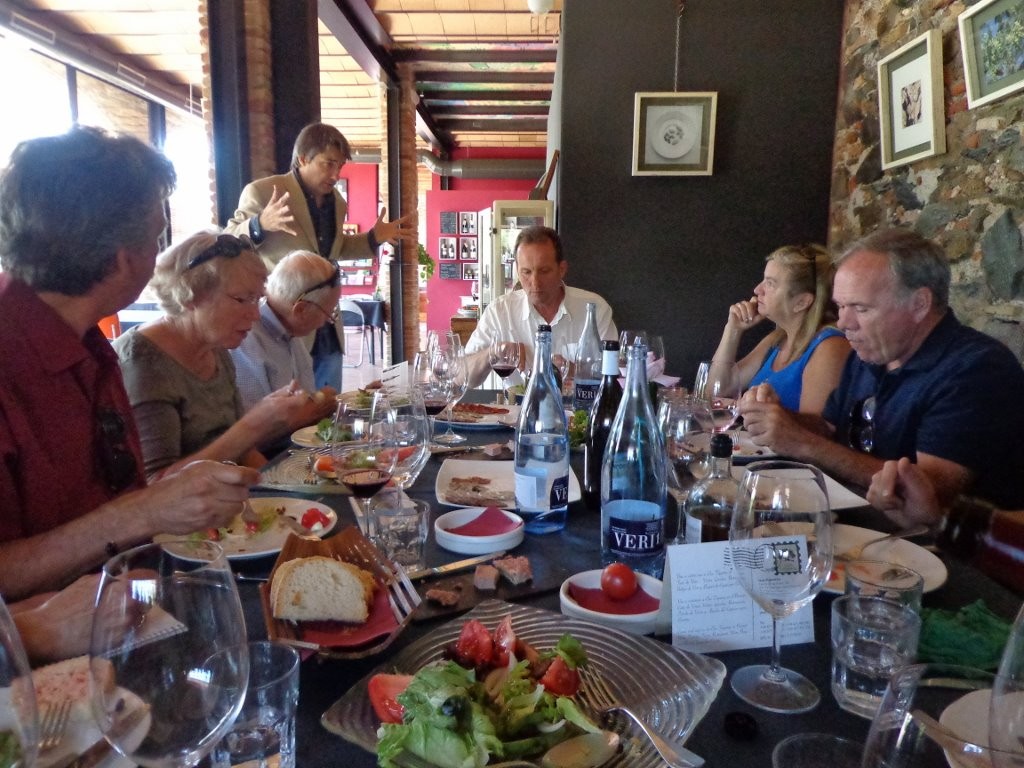 We were lucky enough to experience an exhibition of castellers – human towers – in the city of Reus.
Watching the castellers is an extraordinary and exhilarating experience.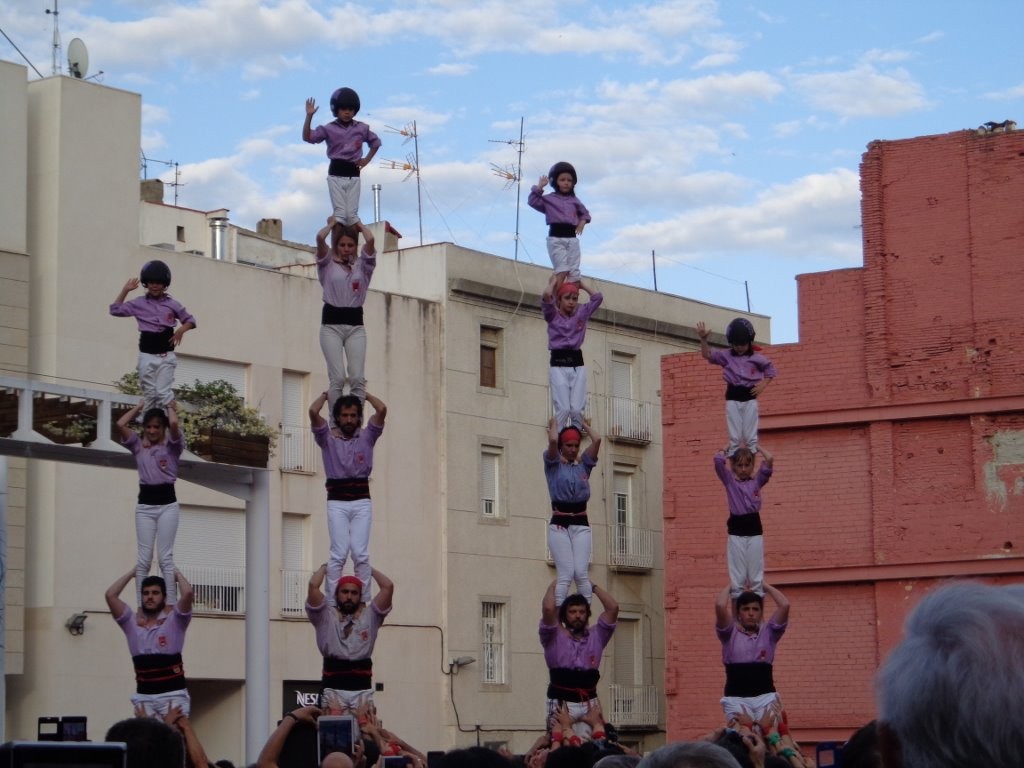 The following day, we had an enjoyable morning in the hill town of Montblanc followed by a tour and tasting at Carles Andreu winery and a multi-course Sunday lunch. After some time to wander around Tarragona, we met up again for dinner in the shadow of the Tarragona cathedral.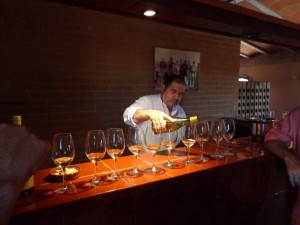 On our way to an overnight at Montserrat monastery, we stopped off at the family owned Llopart winery for a tour, tasting, and a truly fabulous picnic. We ate outside with a view of Monserrat mountain and a lot of cava!
After our picnic, we made our way up the mountain to our hotel next to the Montserrat monastery. The group had a few hours to wander around and take in the famous boys choir at Vespers before meeting up for dinner. And what a dinner! Several courses all with a wine pairing, then cava and liqueurs made by the monks.
The next morning, some of us got up for the sunrise. After breakfast, we headed back down the mountain as all the tour buses were coming up. It is much more enjoyable to be at Montserrat at night, when there are not thousands of people around.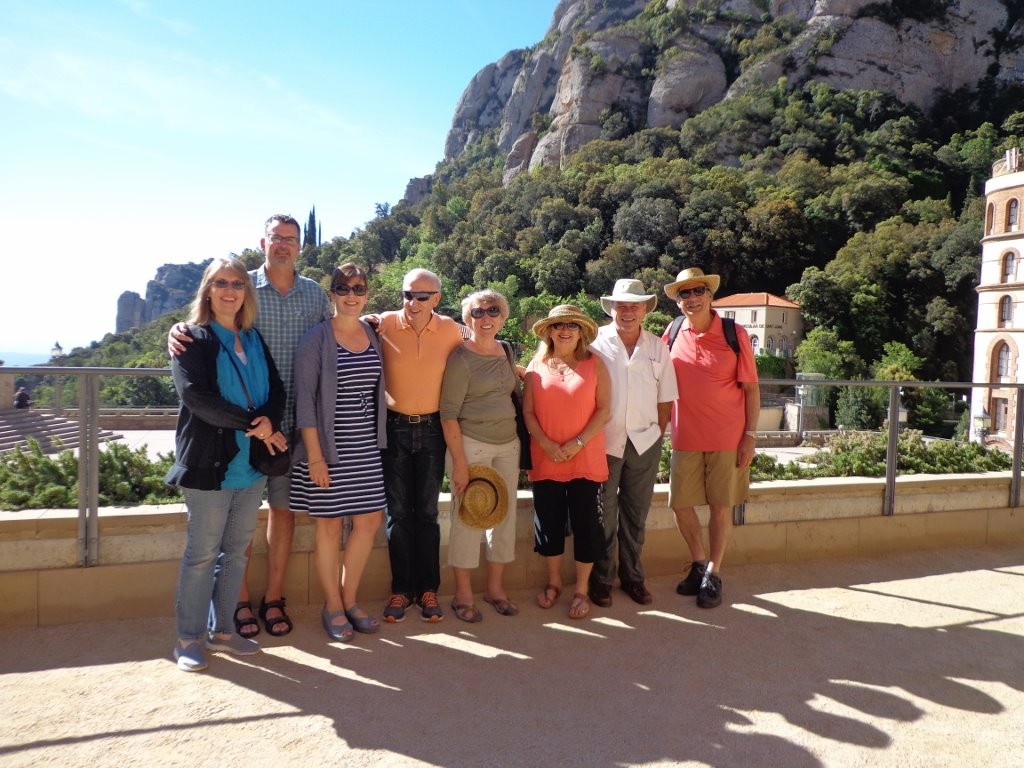 After a stop in the seaside town of Sitges and a paella lunch, we arrived at Jané Ventura winery for a tour and tasting.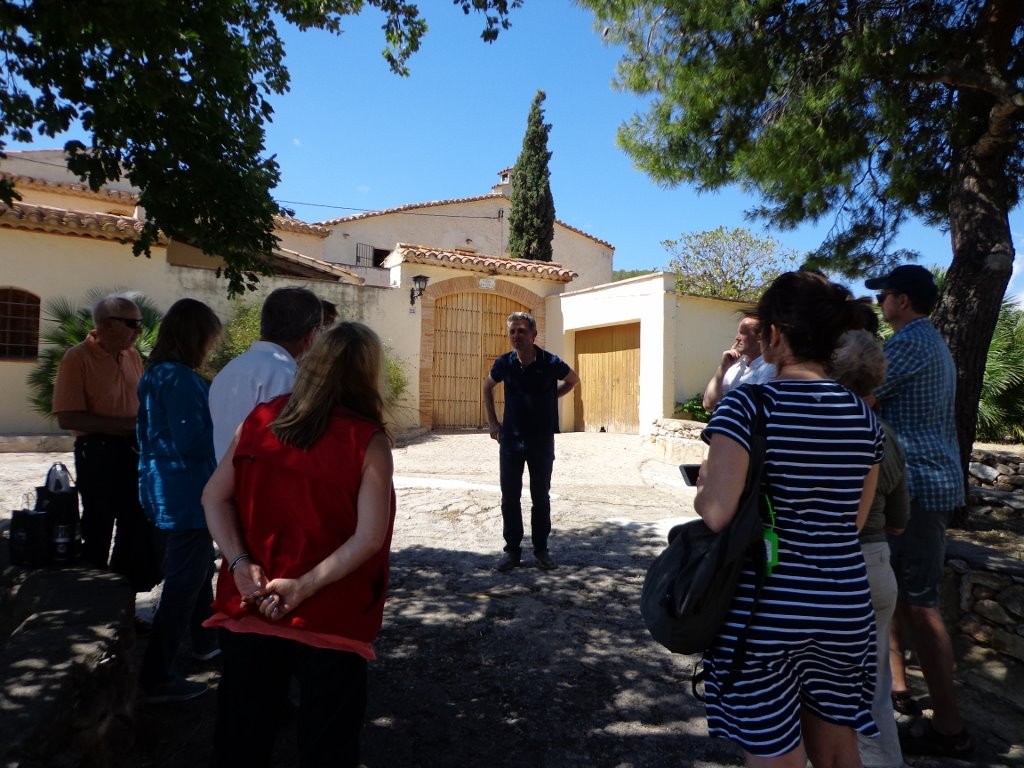 We then headed to our home for the next two nights, the wonderful El Bosc in Banyeres del Penedes. We were well taken care of by owner/sommeliers Meri & Jordi, and Chef Jordi.
The following day we had a wine and gourmet vinegar tasting at Avgvstvs Forvm, then a long afternoon getting to know winemaker Eduard Pié Palomar of Sicus winery. We visited the winery and the vineyards, tasted his wines, and had a long relaxing lunch in the middle of his vineyard, which is possibly one of the most beautiful spots in the whole region.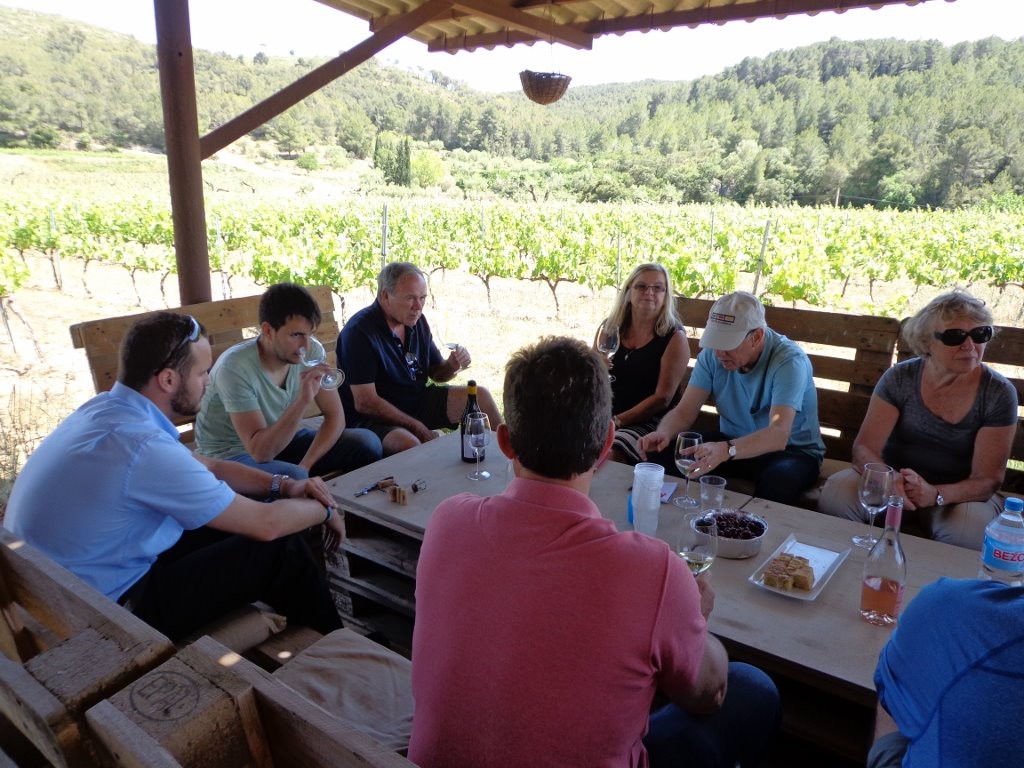 Afterwards our group spent hours in the garden of El Bosc, drinking cava (and gin & tonics!) before another great dinner. The next day it was time to say reluctant goodbyes to Meri and the Jordis and head north.
We stopped at Mas Oller, a winery in Torrent in the Baix Empordà, for a tour, tasting and light lunch. After, we visited the J. Vigas cork producer for a tour to see how corks are made.
The onn to our base for the next three nights – the beautiful medieval city of Girona. We had a tour of the town with our guide Toni, with several stops for food and wine on the way.
The next morning, a visit to another visually spectacular town, Besalú, followed by a tour, tasting, and cooking class at La Vinyeta winery in the Alt Empordà.
M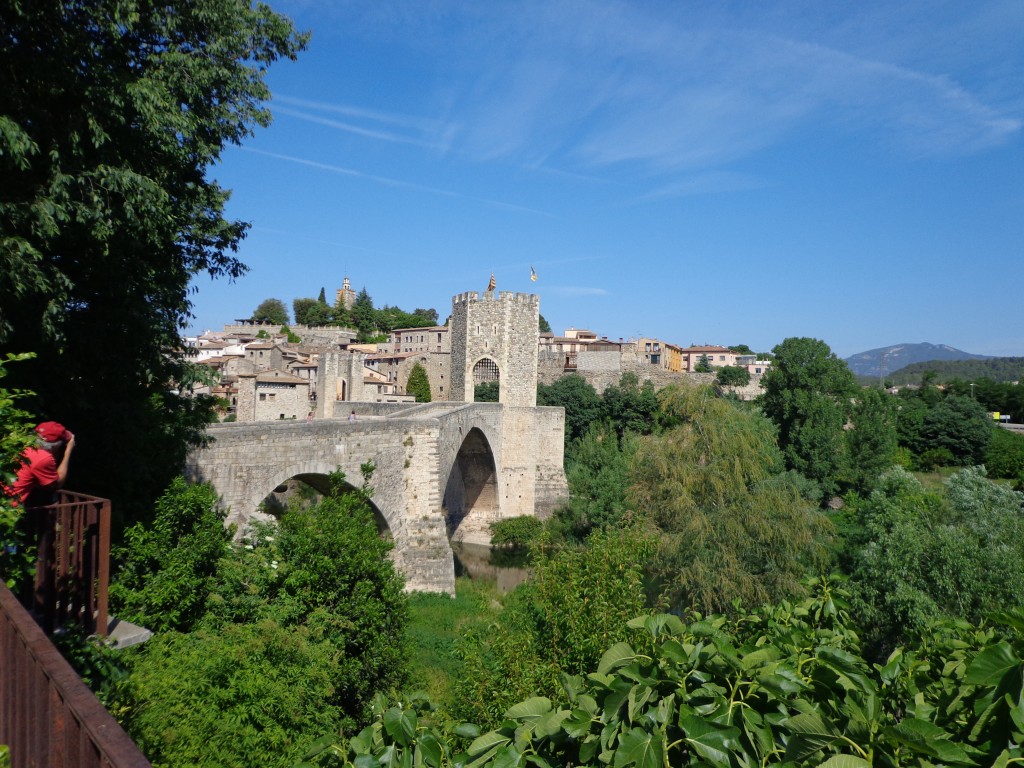 Marta, one of the owner/winemakers at La Vinyeta, showed us the vineyards and conducted the wine tasting. Her dog was a big hit as well.
We had so much fun at La Vinyeta! Our cooking instructor, Jordi, was a lot of fun and the food was delicious!
Our last day in Girona, the group had the "day off" to explore but we still met up for lunch at Simfonia, a wine shop/bar that has excellent dishes to go with their wines.. Many wines were chosen in the shop and brought outside to enjoy on this beautiful Spring day.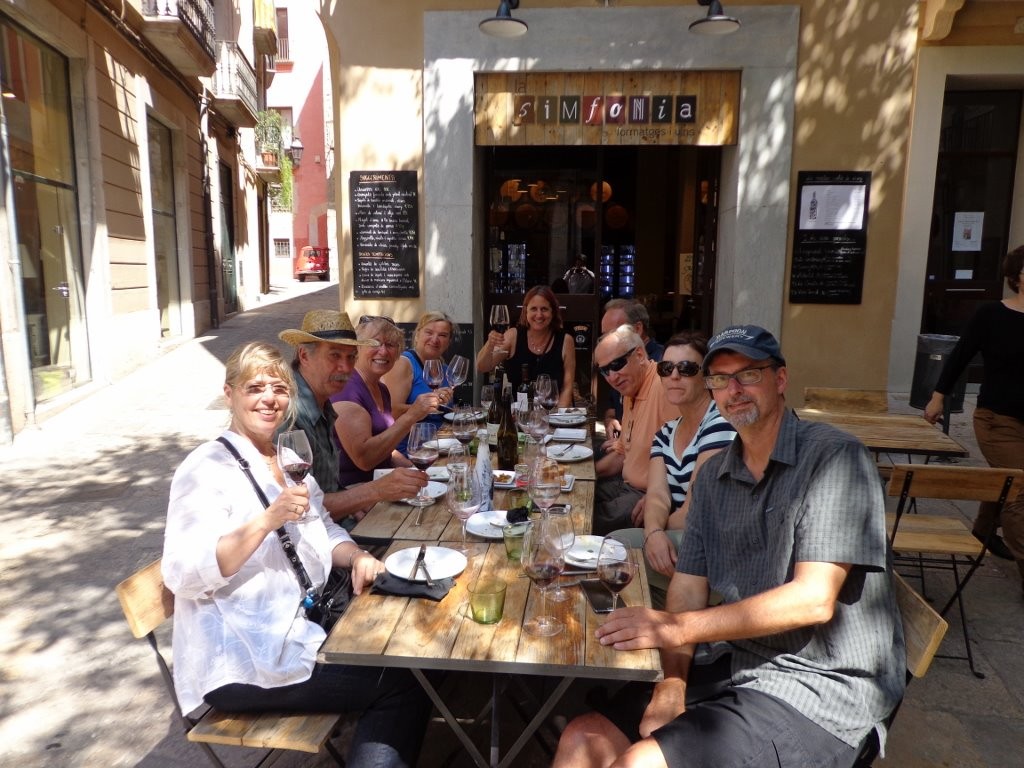 In the evening, bartender extraordinaire Mariona at Nykteri cocktail bar did a tasting of three special cocktails, each paired with a tapa.
And then, we watched Barcelona beat Bilbao in the Copa del Rey cup. Too fun, with fireworks and shots of Ratafia after!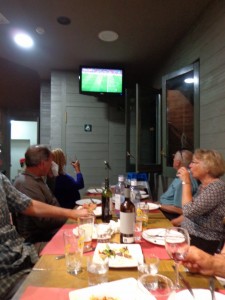 There is another GrapeHops tour in Catalonia in September and there are still a few spots left. Reserve now and join a great group of people on our next journey to this remarkable area of the world.