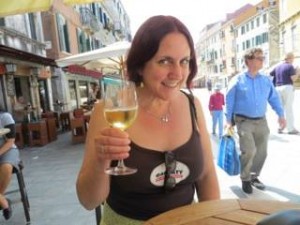 Greetings!
I am Shannon Essa, the owner of GrapeHops Tours and the leader on every tour. Thank you for visiting the GrapeHops website!
I was born with a bad case of wanderlust. Since I began traveling to Europe in 1998, if I wasn't there, I was planning a trip there. It started with Italy but since then I have traveled extensively all over Europe, sometimes for months at a time.
One thing I love about Europe is that there are so many different grapes, so many different styles of wine, and so many beautiful wine regions. It is my sincere goal to seek out experiences in some of these regions, to share with the folks who come on my tours. Though I just started leading tours in 2011, I already have quite a few returning customers. The problem – or maybe it is not a problem! – is that I need to keep developing new tours for them to come on!
It is very important to me to offer my customers a wonderful vacation, with lots of experiences not only in food and wine but in getting to know the locals and off the beaten track places. Along with my on-the-ground network of co-guides, the #1 goal is to make sure you are enjoying yourself.
I hope you will join me someday on one of these adventures.
Cheers,
Shannon Essa